Hip replacement, also called hip arthroplasty, is a surgery that replaces diseased parts of the hip with artifical components. The orthopedic surgeon removes parts of the hip joint and inserts a prosthesis, which is an artificial device. This surgery improves hip function, relieves pain, and increases mobility. According to the Centers for Disease Control and Prevention, approximately 332,000 total hip replacements are performed anually in the United States. Find out about the common myths concerning hip replacement surg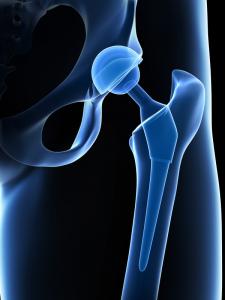 ery.
Myth #1: Pain from hip arthritis is a part of aging, and you have to deal with it.
Hip osteoarthritis affects nearly 15 million Americans, and that number is expected to increase to exceed 30 million by the year 2030. More than 300,000 individuals in the U.S. have a total hip replacement each year. Because of fear of the procedure, some people choose to suffer in pain and only receive conservative care, such as pain medications and cortisone injections. However, hip arthritis can be alleviated by a total hip replacement surgery.
Myth #2: A hip replacement will not feel "natural."
During the last two decades, there has been significant advancement in the technology used for hip replacement. The materials, prosthesis designs, and surgical techniques for hip replacement have only gotten better, so most patients do not even know they have had the surgery after about 12 months.
Myth #3: You should wait as long as possible before having a hip replacement.
Many people who would benefit from a hip replacement are concerned that they will not be able to return to their normal activities following the procedure. Therefore, they delay the procedure and suffer with the immobility, pain, and loss of function. Delaying surgery lowers a person's overall quality of life before the procedure and two years afterwards. With modular components involved, hip replacement surgery is being done on younger patients in this modern age.
Myth #4: I am too young to have a hip replacement.
In the 1980s an 1990s, a total hip replacement did not last for longer than 20 years. Therefore, orthopedic surgeons would not usually perform the procedure on patients under the age of 50 years. With technological advancements, improved prosthetics, and better surgical techniques, the surgery is now found to last for much longer than 20 years. Total hip replacement is an effective procedure for young patients who are candidates and who wish to enjoy an active lifestyle.
Myth #5: All hip replacements are performed in the same manner and with the same prosthetics.
The type of materials used and the form of surgery depend on your overall health status, the extent of your hip damage, and the expertise of your orthopedic surgeon. Some patients require
an open procedure, but other people can have the minimally invasive surgery.
Myth #6: If you have severe hip arthritis, you are not a candidate for a hip replacement.
Anyone with hip joint damage that causes immobility and pain is a candidate for hip replacement surgery. Osteoarthritis is the most common cause of hip joint deterioration, but other causes are broken bones, tumors, and injury. While most orthopedic surgeons do not usually perform the procedure on patients who are in profound poor health, you can have the surgery if the hip arthritis is severe.
Myth #7: You cannot walk for weeks following a hip replacement.
With new procedures and prosthetics, patients are getting up to walk on the day of the surgery or the following day. This usually depends on the state of health of the patient and the type of surgery performed. A physical therapist will assist you in recovery so that you will be walking immediately and driving within six weeks. Full recovery, however, takes between three and six months.
Myth #8: Everyone who has a hip replacement has major complications.
There are some complications that can occur following a hip replacement, but they are not commonplace. These include hip dislocaiton, inflammation, defective devices, blood clots, and infection. However, with new surgical techniques, improved prosthesis design, and better operative materials, a total hip replacement is a safe surgery with few complications.