Platelet rich plasma therapy has found extensive use as a sports medicine and been found highly effective in healing injuries. PRP therapy as it is normally called has been used to treat sports specific injuries such as sprained knees, tendon and ligament injuries and tennis elbow, etc.
This therapy has already been tried by great athletes like Tiger Woods, Rafael Nadal and many others. Apart from athletes, PRP therapy is also used by patients who have undergone operations to heal faster. PRP produces higher platelets, which helps in quick healing.
It is low-risk treatment as the blood is taken from the patient himself.
It has potential to heal tissues faster and studies in the lab have also established this fact.
What is PRP and how it is used?
Blood is composed of both liquid part called the plasma and the solid part which contains erythrocyte, leucocytes and platelets. Platelets are solid components which are best known for their role in blood clotting, but they also contain certain proteins called growth factors which help in healing of wounds and injuries.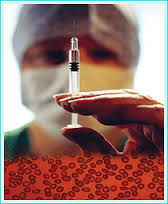 Platelet rich plasma, as the name suggests, is the plasma of blood mixed with platelets, higher in count than the normal blood. The increased number of plasma concentrated with growth factors, normally 5to 10 times higher than normal blood heals the injured part faster.
The PRP preparation is developed by drawing blood from the patient. The platelets are isolated from the other blood cells and their concentration is increased by a technique called centrifugation where the blood with platelets is stirred at high speed and centrifugal force increase the platelet count. The platelet rich plasma is then mixed with the normal blood and PRP is prepared.
PRP therapy and its working
The exact working of Platelets rich plasma therapy is still a subject of research, but experiments in the laboratory show that the high concentration of growth factor proteins in PRP can potentially speed up the healing process of the injured areas.
Studies have further established that the PRP therapy has led to higher cell count and increased tendon strength in Achilles tendon injury. Even in osteoarthritis and medial collateral ligament injuries, PRP treatment has shown a lot of potential. PRP is administered into the patient in basically two ways:
PRP can be injected at the point of injury to the patients. Ultrasound guidance can help administer the PRP precisely. Anti-inflammatory drugs and exercise are, however banned for a period of time. Injury such as Achilles Tendonitis is treated this way.
In case of serious injuries like torn ligaments, where an operation is required, PRP is given at the time of the operation and is stitched into the injured tissue.
Conditions that are cured by platelet rich plasma therapy
This therapy has emerged as one of the most popular sports medicine procedures as it helps the athlete return to their games faster. PRP therapy helps in healing many sports related injuries such as:
Chronic Tendon Injuries
Acute Ligament and Muscle Injuries
·      Knee Arthritis.
·      Surgeries and Fractures.