Arthroscopic knee surgery (a procedure that uses small incisions to repair injuries to the ligaments, cartilage, and bones) utilizes a very small instrument called an arthroscope. This is guided by a lighted scope attached to a TV monitor. Listed below are five things you probably did not know about arthroscopic surgeries to the knees and associated injuries:
1. There is Actually a Range of Arthroscopic Knee Surgeries Performed by Orthopedic Surgeons
Arthroscopic knee surgeries range anywhere from relatively minor procedures such as flushing (lavage) to smoothing of tissue fragments and bone surfaces (debridement). This occurs as a result of osteoarthritis, to more complicated surgeries like ligament grafting procedures and dislocated knee realignments. This surgical range represents diverse procedures, risks, and postoperative requirements.
2. Surgical Procedures Fall into Two Major Categories According to Their Purpose
Arthroscopic knee surgeries generally fall into two categories including those performed to treat acute, destabilizing knee injuries, as well as pain management procedures for displaced or floating cartilage and rough bone. Typically resulting from overuse or traumatic injuries to ligament and/or cartilage tissues, knee injuries can lead to instability, severe dislocations, as well as total lack of mobility.
Common arthroscopic surgical techniques for knee injuries include:
Torn ligament repair or ligament reconstruction.
Misaligned kneecap release. This involves tendon surgery to release the patella and also to allow it to fit into its groove better.
Ligament grafts to promote smoother tracking of the knee with the thigh bone (femur).
Surgical techniques performed for pain management effectively alleviate severe knee discomfort caused by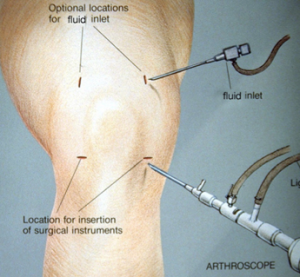 chronic, "wear and tear" conditions such as osteoarthritis. These include minor surgical procedures to treat bone surfaces and cartilage, as well as arthroscopic techniques to take out detached and/or obtruding portions of cartilage such as the meniscus (fibrous patellar cushioning).
3. Arthroscopic Knee Surgeries Are Quite Common
Approximately 5.5 million individuals go to see an orthopedic surgeon annually to be treated for various knee problems. Every year, more than 500,000 arthroscopic knee surgeries are performed In the United States.
Common knee injuries include torn or ruptured anterior cruciate ligaments (ACL), which often occur as a result of different athletic activities including skiing and running. Recent research studies indicate that ACL injuries are increasing within the U.S. as result of the rise in participation of sport activities.
4. Anterior Cruciate Ligament Injuries are Much More Common in Women than Men
Injuries to the anterior cruciate ligaments are anywhere from two to eight times more likely to happen in women than in men. While the exact reasons for this fact are unclear, differences in anatomy, strength, and conditioning are thought to be major contributing factors.
5. Arthroscopy of the knee has been performed for over 50 years

Knee arthroscopy was invented almost 100 years ago. In the 1950's it entered mainstream surgery for knee issues, and
has been improving ever since. The fiberoptic cameras have continually gotten better along with the associated instruments available for meniscal and ligament treatments.
The top orthopedic surgeon in Los Angeles is Dr. Raj at Beverly Hills Orthopedic Institute. He is Double Board Certified, Fellowship Trained and has received an award for Top Orthopedist in Los Angeles on numerous occasions.