Primary ACL reconstruction is a commonly performed orthopedic surgery in the United States. There are approximately 100,000 procedures performed each year in America. It is estimated that the acute rupture incidence in the general population is around one in 3,000. This condition appears to be increasing in the female athletic participants. One form of reconstruction is the allograft hamstring ACL repair.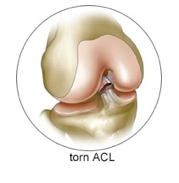 Hamstring allograft tissue comes from a cadaver, whereas an autograft comes from the patient's own tissue. Using an allograft is beneficial, as it avoids the risk of harvest site morbidity. There is less loss of motion and less surgical time with an allograft as compared to an autograft. However, allografts do have some disadvantages, such as availability, cost, immune response, delayed graft healing, and infection risk.
Hamstring tendons are an effective graft choice for allograft ACL reconstruction. ACL allograft constructs provide equally stable components at three year follow-up when compared to other tissue grafts. For many patients, the immune response and bacterial infection risk is diminished with the modern allograft processing technique and shorter surgical time. This is likely due to the smaller incision that is required with the allograft tissue, which reduces bacterial infection risk.
Allograft Processing
Modern allograft processing procedures have greatly improved allograft safety. Now, with nucleic acid testing for contagious viruses, there is a reduction in processing time from 22 to 12 days.
Tissue processing provides a delicate balance between preserving the biologic function of the tissue and the removal of the potentially infectious agents. Also, processing often involves terminal sterilization and/or chemical disinfectants. This reduces the risk of cross-contamination and terminal contamination.
Autograft vs. Autograft
An autograft has certain disadvantages, such as harvest-site morbidity, dependence of donor tissue integrity, and increased surgical time. Also, patients who have this procedure experience postoperative neuroma, patellar injuries, scarring, and poor repair. Additionally, when the patient's own hamstring is used, there is a 15 percent of knee flexor strength reduction, which can affect athletes who sprint or do squatting maneuvers.
There are many advantages of allograft tissue, such as reduced operative time and improved healing of the knee. Some research suggests that there is less rehabilitation time with an allograft, as well as a reduction of stiffness and postoperative pain. In the studies that compare autografts to allografts in primary ACL reconstruction, there is consistent equivalent clinical efficacy.
Before Surgery
Once you are at the hospital, you will be changed into a hospital gown and an intravenous (IV) line is placed in the hand or arm. This is used to deliver anesthesia medications and fluids during and after the procedure. Most patients receive general anesthesia, and the surgeon will have you sign a consent form also.
The Procedure
Once in the operating suite, you are given anesthesia and monitored with brain and heart wave electrode devices. Once you are under the effects of the anesthesia, the skin is prepped with a surgical scrub and draped. The graft is prepared by trimming and cleaning tissue so the ends can be sutured. Three small incisions are made around the knee, and sterile fluid is pumped into the joint.
A small camera is introduced into the knee joint, and any repairs are made to the ACL stump. Once the graft is placed, it is secured with a metal button, screw, or other device. After graft placement and stability is checked, the instruments are removed and a sterile dressing is applied along with a cold pack and compression wrap.
Recovery
You will be brought to the recovery unit and monitored after the ACL hamstring allograft surgery. A physical staff will go over home care and instructions with you and the person driving you home. Once home, a physical therapist will meet with you to teach home exercises and crutch use. This procedure is done on an outpatient basis, so expect to be at the hospital from six to eight hours.