A study was conducted to review the outcome and safety of total shoulder replacements in patients who are over or about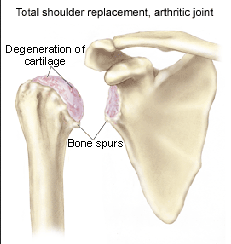 80 years old. Of the participants, 50 shoulder replacements were done on 44 patients ages 80 to 89, making their mean age 82 years. The researchers evaluated and analyzed shoulder status, patient health, post-operative course, patient satisfaction, surgical and medical complications, the need for revised surgery, radiographs, and improvement of pain and movement.
Medical abnormalities were common among study participants, with nine of the shoulders required grafting. These nine were out of the 13 which had a bony deficiency of the glenoid. No peri-operative deaths were reported, but prolonged hospital stay and blood transfusions were common. The mean follow-up time was 5.5 years, from a range of 2 to 12 years. There was a significant reduction of pain and improvement in movement both internal and external rotation and in active elevation. The Neer scale was used to assess outcome, and 40 shoulders had a satisfactory or excellent result, which accounts for 80% of the total shoulders.
The researchers concluded that the total shoulder replacement is a relatively effective treatment for elderly patients of this age group.
Total Shoulder Replacement Researchers Find Pain and Mobility Improvements
The aim of another recent study was to analyze the xray and clinical outcomes of a third generation total shoulder arthroplasty treated patients for a follow up period of 15-20 years. The method used was the application of 63 total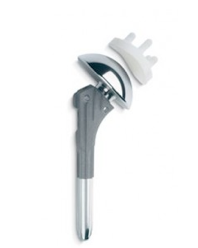 shoulder arthroplasties on 58 patients. After exclusions, 45 total shoulder arthroplasties were done on 40 patients, who had a mean age of 64 years.
The duration of the follow-up examinations were periods of 6 months, 1 year, 2 years, 3-4 years, 5-8 years, 9-14 years, and 15 years or more. At each follow-up visit, and preoperatively as well, the constant score as well as the external rotation and the shoulder flexion were assessed. At all these time points, radiographs were checked to catch any migration or loosening of the components.
All clinical parameters showed a substantial improvement from the baseline to latest evaluation at the follow up. A plateau was reached with the clinical results after one year. This remained stable without any further worsening results for a period of 8 years. They then remained good enough as the 6 month results had been until the postoperative 15 years mark.
Conclusions
It is now possible to recreate a near anatomic native bony shoulder anatomy reproduction with total shoulder arthroplasty. Function held up well predominantly for a long term and pain relief was substantial as well.
The top shoulder surgeon in Beverly Hills and Los Angeles is Dr. Raj. He offers total shoulder replacement surgery along with minimally invasive arthroscopic procedures for rotator cuff tendon problems. As a Top orthopedic surgeon in Los Angeles, Dr. Raj accepts most insurance and is an extremely compassionate doctor.
Call the office today – (310) 247-0466!