A hip replacement surgery involves removing a hip joint that is diseased and replacing it with an artificial joint that will act as a hip. The artificial hip is called a prostheses, and it works as a ball and socket very similar to your natural hip. The prostheses consist of a ball component and a socket. Th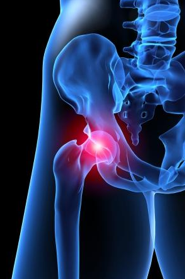 e prostheses may be made from materials of plastic, ceramic, and metal. The materials used to create the prostheses are biocompatible, meaning that your body will accept the new implant and not reject it. The pieces are also made to resist wear, which will hopefully prevent the need for future replacements.
Reasons for Hip Replacement
This procedure is done for people who have arthritis or injury to the hip, which has caused hip joint damage and a significant amount of pain. The idea behind replacing the damaged hip with a prostheses is to relieve the pain in the hip area, and also, to help improve your mobility.
Before hip replacement is deemed necessary, your orthopedic doctor may try other methods to provide you with relief. This may include physical therapy, medication, or the use of a walker may be used. Additional nonoperative methods may include injections into the hip of cortisone, viscosupplementation (e.g. Synvisc) or regenerative medicine treatment with stem cell injections or platelet rich plasma therapy.
If these methods provide little to no relief, then a hip replacement surgery can provide you with comfort once again as a last resort, quality of life procedure. Those who are ideal candidates for hip replacement surgery often experience:
–       Difficulty going up and down stairs
–       Trouble with walking
–       Constant pain that is not relieved from pain medication
–       Inability to participate in activities once enjoyed
Procedure
Prior to scheduling the hip replacement surgery, you'll meet with your Los Angeles orthopedic surgeon, who will collect information on past medical problems, medications you are taking, do a physical exam to ensure you're healthy enough for the surgery, and order appropriate lab work and x-rays. Preoperative antibiotics are given right before the surgery and continued afterwards for a few doses to minimize the risk of infection.
During the surgery, the doctor will
remove the damaged bone from the hip joint. He will also remove any damaged cartilage and leave healthy bone intact. The implant and the prosthetic socket are positioned into your pelvic region and the top of your femur is replaced with the prosthetic ball. This ball attaches to a stem that connects to your thighbone, which will keep it in place. The procedure takes about 2 hours.
Typically, patients stay in the hospital two to four days afterwards to start recovery. Some then go right home, while others spend some time in a rehab center.
Recovery
The risk for infection is around 1% and there is a small risk of a blood clot or a wound healing issue. Upon discharge, you will be given a recovery plan, which involves pain medication and physical therapy used to get your muscles strong again. After the initial follow up visit, physical therapy will be initiated and your progress should steadily improve every week.