Total knee replacement is a surgical procedure that replaces the damaged surface of an arthritic or damaged knee with artificial implants. The procedure, also known as arthroplasty, utilizes metal and polyethylene parts to replace the ends of the femur (or thigh bone) and tibia (shin bone). The artificial knee implants glide together to replicate the motion of the knee joint.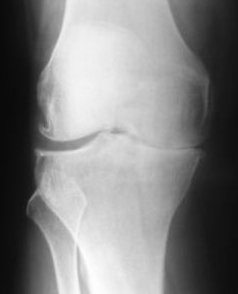 Pre-operative Preparation
The patient is placed under general anesthesia for the procedure. The anesthesiologist will continuously monitor the patient's vital signs for the duration of the surgery. The patient is then placed in sterile drapes, exposing the knee for replacement. The skin over the surgical site will be scrubbed with an antiseptic solution several times prior to the first incision.
Step 1: Knee Incision
The incision is placed vertically around 1 cm above the patella (kneecap) and extends around 8 – 10 cm to the lower end of the joint. The tissues and muscles are dissected and incised to reveal the knee joint. The kneecap is often rotated to provide the Beverly Hills orthopedic surgeon with a better view of the implantation area.
Step 2: Insertion of the Femoral implant
Using specialized instruments to guide the alignment and ensure the accuracy of the incisions, the surgeon will use drills and bone cutting instruments to reshape the end of the femur to match the metal surface of the metal femoral implant. The femoral implant is then placed on the reshaped area of the femur. The implant is then stabilized and fixed in place with stabilizing pins.
Step 3: Patellar Preparation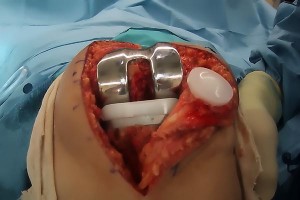 The patella is also prepared for replacement. The Los Angeles orthopedic surgeon will use instruments to resect the interior surface of the patella into a flat shape that fits the polyethylene patellar component of the implant. This is secured by a combination of pins and bone cement.
Step 4: Tibial Implantation
The tibia (shin bone) is then prepared using instruments to align the implants. The damaged parts of the bone are removed and resized to match the tibial components, which are made of metal and polyethylene parts. Bone cement is used to secure the metal part of the implant onto the reshaped tibial surface. A plastic insert is then fit onto the metal implant. This will then be the surface upon which the femoral component slides when the knee bends.
Step 5: Adjustment
The surgeon conducts several examinations and tests during the operation to make sure the correct fit and placement of the implants. The range of motion and the degree of joint mobility is assessed to ensure the patient regains maximum function in the replaced knee.
Step 6: Closing
A final check is done to ensure that no excess bone cement or debris remains in the surgical site. A final
assessment of mobility, stability and motions is done. The tissues surrounding the implant are closed using standard surgical techniques.