Recovery Room
Immediately following a hip replacement, you will wake up in the recovery room at the hospital. You will be groggy, but free of pain and comfortable. In the recovery room expect:
Calf pumps – These are plastic pneumatic pump devices on the lower legs to prevent blood clots.
Visitation – You will not be allowed visitors in the recovery room.
Time – You will remain here for two to three hours.
Pain Control
Most orthopedic specialists are experts in post-operative pain control. The surgeon will do everything possible to alleviate your pain. There are two main reasons for good pain control:
Minimally invasive surgery – Less tissue is cut that can cause pain.
Pain cocktails – These are a mixture of medications injected into the deep soft tissues that surround your surgical incision. These work as a long-acting anesthetic, as well as anti-inflammatory agent. Most patients report no pain following a hip replacement surgery.
You can expect to also have a patient controlled analgesia (PCA) unit, which is a computerized device that is directly connected to your intravenous line. This allows you to give yourself small doses of pain medication when you press the button. The pump will only allow a set amount of pain medication, so if you feel pain, alert your nurse. The PCA is set according to age and weight. Also, many patients are given intravenous anti-inflammatory medications for up to 48 hours. This helps control swelling and inflammation.
Other Drugs
Once you are transferred to your hospital room, drugs are ordered for constipation, nausea, temperature, blood clot and infection prevention, and sleep.
Tylenol – If you run a temperature, the nurse will give you Tylenol. A mild, low-grade temperature often occurs following hip replacement, and is considered normal.
Antibiotics – All patients receive antibiotics to prevent infection, which is a complication of hip replacement surgery.
Stool softener – These are prescribed to prevent constipation.
Sleeping pill – This is used for patients who have trouble resting following surgery.
Coumadin – This blood thinner is used following surgery to prevent the formation of blood clots. Your blood count will be monitored while you are on this drug.
Drainage Tubes
Suction drainage tubes – These are placed deep into the surgical wound to remove blood and body fluid that collects there following surgery. The drain can be removed after two days.
Urinary drainage tube – To monitor urine output, the surgeon often inserts a urinary catheter immediately following surgery. Removal of this tube is not painful.
The Operative Wound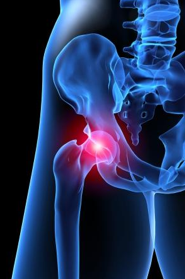 Most hip replacements do not require large surgical incisions. Many operations are performed arthroscopically through small mini-incisions by Los Angeles and Beverly Hills hip replacement doctors, which lie over the side and front of the thigh. Dressings will be in place and must be changed when the drainage tube is removed.
Physical Therapy
The morning after your hip replacement surgery, a physical therapist will get you up and teach you about weight-bearing on the hip. Also, you will be taught how to prevent your hip from dislocating.
Equipment for Home
During your hospital stay, the physical therapist will help you decide what equipment you need for home care. You will be given either crutches or a walker. The therapist usually has you try out both before making the decision. An elevated toilet seat is used when home toilets are low. Also, you will need a shower stool, a thermometer, and a rubber shower mat.