by SportsDoc Raj
The shoulder is a ball-and-socket joint connected to shoulder muscles, tendons, ligaments and bones. The rotator cuff itself keeps the ball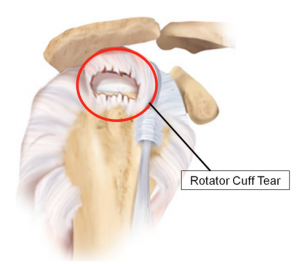 end of the arm bone inserted in the shoulder socket. If a large tear occurs on the rotator cuff, any shoulder movement, especially those involving heavy lifting, may be painful and hard to do. There are instances when the tear is caused by an accident. Other times, it may be caused by normal wear and tear, frayed or weak muscles.
Other than Surgery
Not all rotator cuff tears are repaired through surgery. Physical therapy may be sufficient along with cortisone injections for pain relief and NSAIDS by mouth.
If these fail, surgery may become necessary. This is especially true if it results in severe shoulder weakness or it is important for the person to have a strong shoulder.
Things to Know
The larger the tear, the less chances of successful repair. – As with most injuries to the human body, the larger the muscle tear, the less chances that the patient will have full recovery. The rotator cuff is not a single muscle, but a group of four muscles, including the ligament and tendons. If the damage is complex across the rotator cuff, it might not heal to the same level of health before the injury.
Younger people have better chances of successful surgery. – Although surgery can be done for patients up to eighty years old, results are typically better for much younger patients. For older patients, they may feel better, but they cannot expect full strength and functionality like before the injury.
Healthy tissues have better chances of success. – The stronger the force needed to cause the tear or the bigger the accident which caused the injury, the better the chances for the tissue to repair properly.  If the muscle tissue is in good condition, it would require a lot of force to damage it. On the bright side, the healthier the tissue, the better the chances of it getting back to its former strength, or something near that strength.
Not all rotator cuff tears need surgery. – There are several preconditions before surgery needs to be done. If the patient is old, or if the patient does not do any heavy lifting, shoulder doctors in Los Angeles may not advise surgery. If the rotator cuff tear is minor, physical therapy may be the better course of action. If the pain disappears within three to six months, or if the patient is able to use the shoulder to continue with the same activities before the injury, then surgery is not needed. The main consideration for Los Angeles orthopedic doctors is the advantage of surgery against the risks involved. If the expected result would be the same, then surgery need not be undertaken.
Physical therapy is needed for complete recovery. – Another pre-requisite to surgery is a commitment to undergo physical therapy. Physical therapy sessions start almost as soon as the patient comes in for the first follow up appointment. From passive to active exercises, and then further continuous therapy, these are all needed in order to rehabilitate the torn rotator cuff.