The ACL, or Anterior Cruciate Ligament, is responsible for supporting the knee and plays a major role in keeping the knees from giving way when you walk, run, bend or jump. There are a number of factors that need to be considered when you are considering an ACL reconstruction surgery. Age, type of injury and lifestyle play a huge role in whether you require this
surgery. Pain is also an important factor and often a deciding factor for many when this problem first presents itself. But a timely procedure can help you return to full use of your knee just like it helped Dominique Easley, one of the star contenders in this year's NFL draft,  after he suffered from an ACL injury.
ACL injury is sometimes referred to as a five second injury, and is a growing concern among athletes and people who move around a lot. The ligament has very poor healing capabilities and does not heal on its own. ACL injury can occur at any age and while athletes suffer often from them, it is a common problem, and can be easily remedied with surgery. Pain, instability and a loss in range of motions are often associated with ACL injury.
You may need ACL surgery if:
The ACL ligament in your knee is completely torn
Your knees often buckle and cause frequent instability
You experience too much pain when your knee gives out
Many people elect not to go for ACL reconstruction when they think they can manage the instability on their own. The injury is not always painful and is manageable for a number of people. For those who are unable to cope with the injury, or find that they injury stops them from performing day to day tasks, ACL construction offers the following benefits: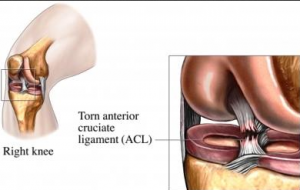 It allows you to resume an active lifestyle
It is especially useful for athletes and sportsmen since they can resume playing
Offers a high degree of protection against cartilage damage in the knee in the near future
A reconstructed knee is very close to a normal knee and offers a chance to live normally
While there are many advantages of undergoing ACL surgery, the procedure also has a number of disadvantages which must be taken into account.
ACL Surgery is not always a complete success. It may leave you with reduced pain but also cause you to give up on a full range of motions.
The risk and complications associated with most surgeries also hold true for ACL
You will have to keep in mind that while ACL surgery is very effective, not everyone has to undergo it. For someone with a normal lifestyle and manageable knee pain, the surgery is completely optional. There are many activities that are not affected by ACL and unless you feel that your injury is inhibiting your daily life, you can choose not to undergo this surgery. That being said, the surgery has a high rate of success and can help you recover the full use of your knee, and allow you to lead a more active lifestyle.