Autograft and allograft reconstructions are both slightly controversial methods of reconstructing a damaged ACL. Autograft surgery has generally been considered the gold standard for ACL reconstruction, particularly since the safety of this method has significantly improved in the past 15 years. Allograft tissue banks are now increasing the availability of tissue available for surgery, which is making this option available to more people as well.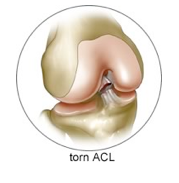 Autograft ACL Surgery
Autograft surgery includes  tissue from the patient and not a donor. It may be a  hamstring tendon or part of the patellar tendon. Grafts will be chosen based on which is the most likely to provide stability for the patient and the experience of the  Orthopedic Surgeon. While the patella tendon is generally considered to be the most stable option, there are some surgeons who have started using the hamstring tendon option more and more as research continues to support its biomechanics and outcomes.
The initial step in an ACL surgery using an autograft is to harvest the tissue that will be used for the ACL reconstruction. This adds a bit of time to the surgery and sometimes another incision.
Allograft ACL Surgery
Allograft ACL reconstruction allows for harvesting of the Achilles tendon or patellar tendon with bone blocks from a cadaver. If a soft tissue only allograft is
needed the tibialis anterior, semitendinosus, peroneus longus, tibialis posterior or iliotibial band allograft can be used. Allografts eliminate the risk of morbidity around the harvest site and generally cause less reduction in mobility once the surgery is completed. Allografts have a shorter surgery time and can be useful in the event that multiple injuries or revisions are necessary to repair the ligaments.
Allografts are much more expensive than autograft surgeries. They also have a slightly higher risk of infection and some studies have shown a slightly higher risk of graft failure as well.
One of the main concerns surrounding allograft reconstruction surgery is young or active patients seem to have a higher re-tear rate with this type of surgery. Some studies have indicated that bone-patella tendon allografts have a 2.6-4.2 times increase in failure risk from a standard bone-patella tendon bone autograft.
The current allograft tissue used in ACL surgeries is screened for many diseases and bacteria, but there is a very small risk of contamination.