While the human body can sustain injuries, illnesses, and other typical problems, it is important to remember that you're not invulnerable. In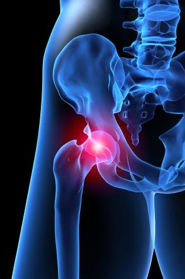 fact, when it comes to your joints, you are a lot more fragile than you think. As a result, countless people each and every year are forced to turn to hip replacement when they begin to experience joint pain or discomfort. However, did you know that there are ways to prevent you from being yet another person who needs a hip replacement?
Follow These Five Preventative Methods Early to Prevent Hip Problems That Lead to Replacements
Stay in Control of Your Weight – If you're carrying around excess weight, you're putting excess pressure on your joints, which can exacerbate the deterioration of your hips and other joints. Your hips aren't necessarily at as much risk as your knees when it comes to joint pressure from your weight, however controlling your weight is an important safety measure to take.
Eat Healthy – Miracle supplements that promise to protect your joints, especially your hips, often leave a lot to be desired. However, eating healthy and getting all of your natural vitamins and minerals can be quite effective at keeping bones strong over time and reducing the risk put on your joints when it comes to deterioration.
Activity Modification – If you are used to running and it's causing your hips to hurt, simply begin cross training. If you are golfing 5 days a week and walking with subsequent 7/10 pain the next day, switch to a cart some of that time. Those types of alterations can save your hip joint.
Physical Therapy – Strengthening the muscles around your joints is one of the best preventative methods that you can take to prevent inflicting serious amounts of pressure on your joints. Muscles will absorb shock and displace the stress of impact across your joint, protecting your joint in the process.
Injections – there are several types of injections that can help tremendously. One of these would be traditional steroid injections. These can provide months of pain relief at a time. There are new injections consisting of PRP therapy and stem cell injection material that can help not only provide pain relief, but also offer some joint repair potential.
Easy Modifications Can Protect Your Hip Joints
When you want to avoid becoming one of hundreds of thousands of people in need of total hip replacement surgery every year, following the five tips above can help.
Dr. Raj at Beverly Hills Orthopedic Institute offers premier hip treatment, both nonoperative and joint replacement.